There is one thing that I really enjoy on television when I can be bothered to watch it and that is the game show. Growing up there were lots of great game shows on television, however these days there are some good ones but not as good as what they were 'back in the day' (I am in my twenties, so when i say that i am referring to the nineties and early noughties.) There are some that i really do enjoy watching but i tend to watch them very rarely these days as I don't have a lot of time to sit down and enjoy them. So here is a list of a few that I have enjoyed from the past and the present day.
Distraction
This game show wasn't on for very long but it was one of the big starting points for Jimmy Carr and his career. It is a game show that you wouldn't want to be a part of to put it politely. Each of the contestants have to go through a grueling set of tasks to try and get to the final. To answer questions for each round the contestants have to hurt themselves in weird and nasty ways such as electrocuting themselves, birds pooing on them or pushing buttons whilst blindfolded with cacti around them. The last round when the finalist gets to play for their grand prize usually ends in tears too. The prize was usually a car and if they got questions wrong they would have to damage the car in anyway that they are told to.
The Crystal Maze
This is still, in my opinion one of the best game shows ever made. Crystal Maze had it all, challenges, people locked up if they didn't get out of the room in time, a fantastic presenter and a really catchy theme tune. It was one of those game shows that was set in different locations meaning all the games had different themes. The team at the end would then go into the crystal dome at the end and collect as much money as they can by catching all the flying  money and putting it into the letter box. I grew up watching this so much as a kid and even when you watch back the episodes now, they are still fantastic.
Gladiators
'Gladiators are you ready? Challenger are you ready?' This was another fantastic show that i used to love when i was growing up. A set of normal people would take on the gladiators, these really muscly men and women at various strength based challenges to win a place in the final where they would face the deadly travelator. The Gladiators became as big as the show, such as Wolf, Jet, Lightning, Rhino etc and they would always do special appearances at random places. (I met Wolf and got a hug from him when i was a kid as he turned on the Christmas lights on in my area) They brought this game back about 7 years ago but personally i felt it didn't have the same effect as they would fall into swimming pools and not the huge crash mats i loved so much.
Scrapheap Challenge
This was one of those show that I would watch from time to time but would have to be in the mood for. When I did watch it however, i really enjoyed it. Not really a panel show but a game show in a different type of style. I was debating about whether this should appear on this list but it was such a forgotton hero i felt it deserved a place. Two teams would go against each other to build a certain thing out of scrap each week. So it could be a fire engine or a tractor but it all had to made out of products from the scrapheap. Some of the inventions were fantastic and it was hosted by Robert Llewellyn whose is famously known for his character of Kryten in Red Dwarf
Man O Man
Before the god awful television show Take Me Out there was one that was even more cheesier then some of the sayings that come out of Paddy McGuinesses mouth. However, I was very young when it came out and to be honest only liked it for one reason and one reason only – the pushing in the pool. I didn't care for the cheesy games and challenges the men had to do to convince the women to keep them, i just liked it when they got rejected and pushed in the pool. Imagine if they did this on Take Me Out today how much entertainment it would be…although if they guys rejected the girls and pushed them in the whole pool would be completely cakes in thing slabs of fake tan and make up.
Never Mind The Buzzcocks
Right from childhood this has been one of  my all time favourite shows I have loved it throughout all the presenter changes and even when it got sillier and sillier over time. I loved Simon Amstell as the presenter as he was the perfect combination of bitchy and funny  to the guests, so much so he made people walk out but it was always hilarious to watch. I wasn't keen when they had guest presenters however loved it when they brought in Rhod Gilbert as the new main host, he was fantastic but unfortunately it got taken off the air. If you wanted a television show that would be the perfect amount of music and comedy then this was the show for you.
A League Of Their Own
I am not interested in any UK sport (only ice hockey for me – go NYR woo!), so you would probably wonder why this made the list. When i worked at Sky I felt that it was only right that I watched a show that was one of their biggest productions. I went inot it thinking i would hate it because I am not a fan of Jack Whitehall or James Corden but ended up loving it. I loved the games that were played, the banter between Freddie Flintoff and Jamie Redknapp and everything else in between and who could forget the bullying and bromance between Flintoff and Whitehall? It must be such a great show as ITV pretty much copied it with Play to the Whistle.
Shooting Stars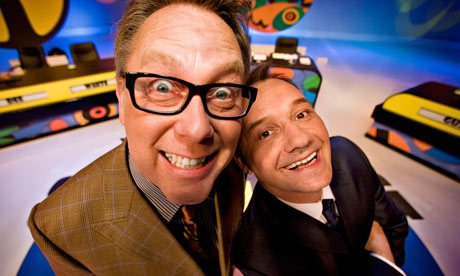 If you want a gameshow full of silliness and randomness then this is the one for you, it also used to be one i used to love as a kid and when i watch it now i have no idea why. Not in a bad way just like wow its super silly. That's what you expect though when you watch any Vic Reeves and Bob Mortimer show is pure silly and this is probably why i liked it because it was very random.
Whose Line Is It Anyway?
This was another childhood favourite i used to love
watching it because its so silly and I suppose it got me into improv although as the time I was too young to know what improv even was. I just remember laughing at how funny they were and used to love it so much.
Would I Lie To You?
I love this show so much, its such a simple format but works so well. I have been watching
it since day one when Angus Deyton was the presenter. It just goes from strength to strength. It's not always the lies that make this show, its actually the relationship between the team captains Lee Mack and David Mitchell and presenter Rob Brydon that really make it fantastic and very funny.
Dales Supermarket Sweep
This show was another one that I loved so much as a kid and used to love watching it. I loved the fact it was based around a supermarket and always wanted to be on it. Recently i found out someone i work with used to work on it so i bombarded them with questions as i used to love it.